VISITA COMENIUS: REFLEXIONES DE ALUMNOS
Adjuntamos a continuación algunas reflexiones de varios alumnos y alumnas de nuestro centro, en relación a la visita que recibimos hace varias semanas dentro del Programa Comenius:
Mª Carmen Delgado Rojas (1º ESO - C)
It has been a very nice experience. Thanks to them we have known people from other countries.
English and French students spoke a bit with us in English and French.
We celebrated Andalucia´s day and we shared with them our culture and economy.
Mª José Medina del Valle (1º ESO - C)
My experience with the Comenius students
Before the arrival of these students I was a little nervous. I wondered what they would be like: tall, short, blond, dark-haired.
The day that they came arrived and the first day I met three French girls and they seemed very nice.
The next morning, before going into the class I saw the French girls but I got so nervous that I did not know what language to speak, and just said a simple "Hello!" Then, after a few hours I was not nervous anymore and I did not feel embarrassment and I talked to them in French with the vocabulary we know by now. I was super proud that I understood what they told me.
It´s so exciting when you speak another language and you can understand!!!
Then we met the Italians, who knew how to speak Spanish. That was no trouble and they were very friendly to us.
I also met the English students and with them and with them I felt a blast on my face... and the Germans, who made me laugh a lot.
These guys have been here in Pilas and I think it has been a privilege to have them. I value very much this opportunity that I have had.
In the trip I did to Seville with them on Thursday ( because I was chosen as a good student in my class), I made new friends and I spoke in several languages.
I have had the opportunity to know more things about them, for example that the best ice cream in Italy is in Calabria and that they call it "gelato".
It has been an unforgettable experience and I will never forget it !!!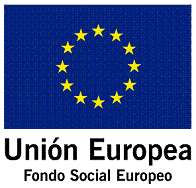 Las enseñanzas bilingües, la FP Básica y el ciclo formativo de grado medio de nuestro centro están cofinanciadas por el Fondo Social Europeo